Social media and civil unrest have long gone hand-in-hand, from coordinating revolution during the Arab Spring to repressing corruption in Turkey. Amid pro-democracy protests in Hong Kong, locals have taken to the location-based messaging app FireChat to communicate with each other. 100,000 local users signed into the off-the-grid messaging app for the first time last weekend after a student activist recommended the app for communication should authorities switch off cellular networks.
Click on above title for more.
Could be scene from a disaster movie as heavy rainfall In Hong Kong Flooding Into Shopping Mall
More than a thousand people protested outside a Dolce and Gabbana store in Hong Kong on Sunday after the Italian clothing store allegedly prevented people from taking photographs of its shop front.
The protest followed reports that a Dolce and Gabbana security guard had stopped a photographer taking pictures of its shopfront from the pavement outside.
More than 13,000 people had protested over the incident on Facebook.

CNN reports here, that  the guard in the mall told a reporter for the Apple Daily that local Hong Kong residents are not welcome to visit as they only expect luxury goods buyers from the communist governed maindland China to come.  


Click on above link for more.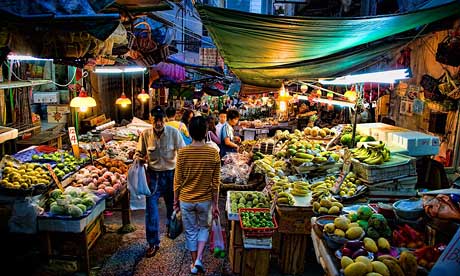 Allan Jenkins in The Observer takes you on a culinary tour of cantonese food in Hong Kong, rom Michelin-starred restaurants to meatballs in a street market.
The silvery fish is lying on the slab bleeding an astonishing red, half its head and side missing, but somehow not yet dead, like something tortured in Game of Thrones. Organs pulse. All around gasping dying fish are dumped on trays for display. In the steaming heat of Hong Kong's "wet" and "dry" markets, food shoppers prize fresh death over galloping decay.

Bass, carp, exquisite turbot, live out their last anxious moments before being dispatched and thrust into shopping bags. Clams of every sort and size, prawns, crabs, other exotic crustaceans spill on to the streets. Everywhere there is abalone, Asia's most prized shellfish.
Click on the above link for more.
Samsung and Google's Ice Cream Sandwich event is about to go live in Hong Kong. Expected is the announcement of the Samsung Nexus Prime which has just been confirmed.
Click on the above link to follow the event or watch live here. 
Engadget has confirmed the internet rumours ahead of Samsung and Google's live event in Hong Kong revealing details of the Nexus Prime. 
Indeed there is a 4.65-inch screen running, Ice Cream Sandwich, revealing the version number as 4.0. Other specs include an HD Super AMOLED display (1,280 x 720), a 1.2GHz dual-core processor, 5 megapixel rear camera (with LED flash), a 1.3 megapixel front-facing cam, 1080p30 video recording and playback, a newfangled panorama mode, a 3.5mm headphone jack and Bluetooth 3.0. You'll also find USB 2.0, 802.11a/b/g/n WiFi, an embedded NFC module, accelerometer, compass, gyro, proximity sensor and even a barometer.
Click on the above link or stay glued for further details. 
Glaxo recalls Augmentin after contamination
Picture : The Hindu 
The plasticiser contamination scandal in Taiwan has spread further. Originally detected in food, drinks and health products, the health department detected the presence of di-isodecyl phthalate (DIDP), in amoxicillin clavulanate, under the brand name Augmentin, manufactured by GSK, (Glaxo SmithKline Plc) .  The drug is used to treat many antibiotic resistant bacteria, particularly in children.
Taiwan has now followed Hong Kong and banned the drug asking Glaxo to recall the drugs at fault. The contaminated product were manufactured in France, No response has been made in the EU, and it has not featured on the news but India may be close to be asking for a recall too.
Earlier Hong Kong's  Department of Health said in a statement that Diisodecyl phthalate (DIDP) was detected in GSK's Augmentin powder for syrup 156mg/5ml, a product for children.
A government laboratory test detected the presence of DIDP was two times higher than Europe's specific migration limit for food contact materials.
DIDP's safety for human consumption was not well established, but data from animal studies suggested long-term consumption of high levels of DIDP may affect the liver, the government said.
The government said it had stepped up surveillance of pharmaceutical products containing flavouring agents after Chinese media reports that Chinese importers had recalled bottled beverages from Taiwan that were suspected of being contaminated with a cancer-causing plastic additive.
A GlaxoSmithKline spokesman said the company was seeking professional advice on the recall. It said the chemical had not been added intentionally and it belonged to a group of plasticisers that are present in trace compounds in the environment and in many items that are consumed daily.