Microsoft could allow Windows Phone to support Android apps in the future, according to a new report. 
New information suggests that Microsoft is at least considering the possibility of supporting Android apps on Windows Phone and Windows one day. 
Speaking to The Verge, "sources familiar with Microsoft's plans" say Microsoft is talking over the idea of accepting Android apps into the Windows and Windows Phone ecosystems. 
The sources say that the discussions are still in the early stages and planning "is ongoing", but Microsoft is talking about the possibility. 
Apparently, Microsoft is discussing whether to simply allow Android apps to appear within the Windows and Windows Phone stores, but some execs suggest it could destroy the platform entirely, especially on mobile. 
Click on above title for more.
Images of the purported Nokia Lumia 1520V mini have appeared online with a suggested April release date.
Earlier this month, information about a mini version of the Nokia Lumia 1520 emerged online, which has now been backed by some leaked images. 
The images appeared on some Chinese websites, showing the 1520V next to an iPhone 4S and the full-sized Lumia 1520. 
Click on above title for more.
Specs for the Nokia Lumia 1820 and Nokia Lumia 1525 have leaked online ahead of an official MWC unveiling. 
Nokia could be making quite an impact at this year's MWC if the latest leaked specs for its upcoming handsets turn out to be accurate. 
Acccording to a brand new source named @NextLeaks, Nokia will launch the flagship Lumia 1820 and the Lumia 1525 phablet will be launched at the show. 
Of course, this new tipster doesn't have the proven track record of someone like @evleaks, but we really hope these specs are the real deal. 
The Lumia 1820 will reportedly feature a 5.2-inch 2K 2048 x 1080p resolution display running on a quad-core Snapdragon 805 processor with 3GB of RAM. 
Click on above title for more.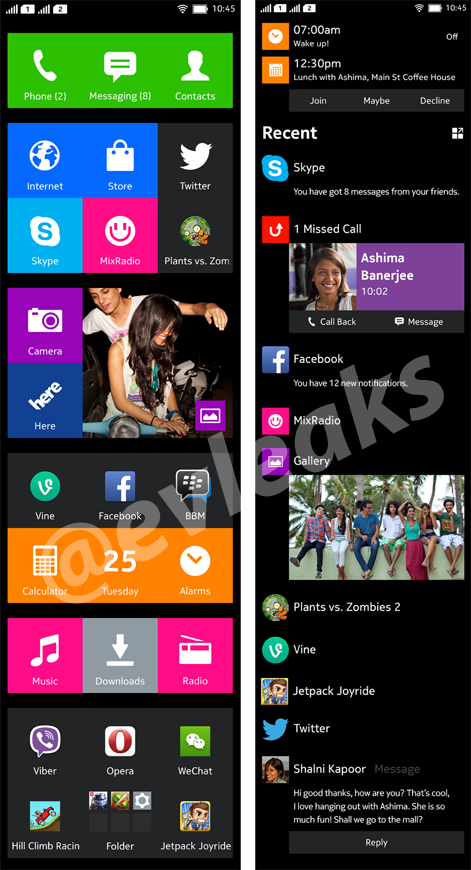 More details leaked online about Nokia's Normandy handset, a reported Android phone the company is working on. A pair of home screen images appeared on Thursday, courtesy of the well-connected @evleaks. You'd be hard pressed to see anything remotely looking like Android though. The user interface is far more reminiscent of Windows Phone.
Click on above title for more.
Nokia is set to make quite a splash at Mobile World Congress in Barcelona next month, if the latest whispers turn out to be true.
According to @NextLeaks, Nokia will reveal its Lumia 1820 flagship at the show, and it's got quite the spec list. To put it mildly.
A 5.2in 2K display, a quad-core Snapdragon 805 processor and 3GB of RAM are all said to be included in the 1820, along with a 3,400mAh battery, 32GB of expandable storage and a camera with a Xenon flash and Lytro-like technology which allows for post-capture re-focusing.
Click on above title for more.
We called Nokia's Lumia 1020 "the best cameraphone ever" – with an awesome 41MP camera and plenty of power under the hood.
Make your snap-happy smartphone even better with this selection of essential Windows Phone apps.
Click on above title for more.
Nokia's first Windows Phone tablet, the Lumia 2520, has only just arrived – and it seems like the company's second Lumia slate won't be far behind.
Details of two as-yet-unannounced Nokia Lumia devices have leaked out via Zuaba.com, a site that carries information on items being shipped in and out of India. There's a tablet, here codenamed the RX-115, with an 8.3in full 1080p screen and nano SIM slot (which means you may be able to make calls on it).
Click on above title for more.
Windows Phone has never looked this good. The latest update to Microsoft's mobile operating system, known as Update 3, added support for 1080p displays, large smartphone screens and state-of-the-art processors. And now, these features are finally showing up on actual hardware. The first device to tick off all these boxes is the Nokia Lumia 1520, a 6-inch flagship with all of the trimmings we've been waiting to see on a Windows Phone device for three years now.
Because high-end Windows Phones have been limited to whatever specs Microsoft officially supports, we've felt that Nokia's flagships didn't differ enough in specs from the lowest-end Lumias to justify the enormous price difference. At least, they didn't until now. The Lumia 1520 is the first top-of-the-line Windows Phone device that brings the best possible components. So, what's WP8 like on hardware that isn't behind the times? Let's find out.
Click on above title for more.
A full array of Nokia Lumia 525 specs have leaked online, with the mooted handset looking set to be a minor upgrade on the existing Nokia Lumia 520.
With the Nokia Lumia 520 having become the most popular Windows Phone handset to date, a successor looks a certainty, with latest Nokia Lumia 525 specs suggesting the follow-on will not feature any radical changes of the tested model.
According to a range of Nokia Lumia 525 specs leaked courtesy of Chinese site Baidu, the only hardware difference between the two devices will be a jump from 512MB of RAM to a new 1GB offering.
Set to be powered by a 1GHz dual-core processor, the leaked Nokia Lumia 525 specs have hinted at the Windows Phone 8 OS lining up alongside a 4-inch IPS display with a 480 x 800 pixel resolution
Click on above title for more.