When it comes to gaming on your phone, it's either swiping bliss or on-screen button rage, but luckily, there's a fix on the way to make the latter pains go away. It's called the G-Pad, a simple silicone sleeve that slides around your iPhone, and brings a d-pad and physical buttons to turn your iPhone into the ultimate Game Boy handheld. Fancy one of these?
Designer Aws Jan is attempting to turn retro gaming on your iPhone the best it can possibly be with his new project, the G-Pad. He's looking to raise $16,000 (£9,570) over on crowdfunding site Indiegogo to turn his physical gaming dreams into a reality, and the simple silicone sleeve just slides onto your iPhone 5, 5s, 5c or iPod touch to work with a iOS GameBoy emulator called GBA4iOS that doesn't require you to jailbreak or hack your iPhone to game on the go.
Click on above title for more.
In these days of cell phones thinner than a deck of cards, no one would be caught dead talking on a big old brick from the 90s. That's why this throwback phone is the perfect disguise for your new fancy phone. The anti-theft case has a small opening that you can slide your phone into, and no one will be the wiser. Let's just hope no one thinks the phone is trash and just recycles it.
Click on above title for more.
We don't remember phone numbers too often nowadays because our smartphones remember them for us. But what about when you need to dial an extension, too? Rather than write it down in a note, Yahoo! Tech reveals a simple way to make your phone do the work for you.
Andrew Whyte is a photographer who specialises in taking long exposure photos, but when he found that he was spending most of his time shooting for work at night, he looked for an interesting passion project to counteract the professional ones. That's when he hit upon the idea of taking pictures of a Lego minifigure, itself taking photos. And all using his iPhone.
"I found that I wasn't really picking up the camera as often as I liked because it gets so tiring shooting night after night after night," explained Whyte to Pocket-lint. "So I was on the look-out to tie-in all the snaps I would take on a daily basis as I wandered around."
Click on above title for more.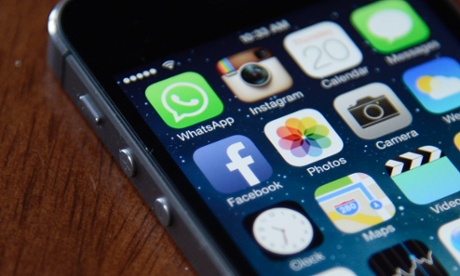 Facebook's app has been identified as one of the main causes of battery life problems with Apple's iPhone.
Two developers working separately have identified Facebook's repeated polling of its systems for new posts and data as a principal cause of battery drain. "Disable Background App Refresh for Facebook or other apps you don't absolutely need to stay up-to-date all the time," says Scott Loveless, an ex-Apple Genius bar employee who says he routinely dealt with battery life complaints in that job.
Apple's iPhone has a relatively small battery with a capacity of 1,560 milliamp-hours (mAh), compared to other flagship smartphones which can have capacities of 2,600mAh. Short battery life has thus become a primary user complaint, prompting Apple to issue advice on battery care and a plethora of articles and tips on how to extend an iPhone's battery life.
Click on above title for more.
Owners of Apple's iPhone have the dubious honor of possessing one of thieves' most sought-after gadgets. In fact, the New York Police Department recently pointed out that thefts of Apple devices were largely responsible for the rise in crime last year. With that in mind, it's easy to see why lost and stolen device recovery systems such as Apple's Find My iPhone are hugely important, and we have read several stories about such mechanisms helping people recover their lost devices. But what happens when systems like Find My iPhone can be removed from a stolen iPhone in mere minutes?
Click on above title for more.
While there's already one iPhone case that's dedicated to keeping you healthy by measuring your blood pressure and heart rate, this case aims to keep you fit with a completely different approach. Meet the ToneFone, an iPhone case that's loaded up with weights to give you a quick workout while you tweet!
If you can't keep away from your phone to even head to the gym, this could be the case for you: the ToneFone makes your iPhone weigh either 1kg or 1.5kg, letting you get an arm workout every time you text, Snapchat, check Instagram or take a selfie – all supposedly to improve your muscle strength and endurance.
Click on above title for more.
Snappgrip turns your phone into a real point and shoot
Azoi has announced the Wello iPhone case, which offers health monitoring capabilities within a mobile phone case. 
The new Wello iPhone case seems to offer a wealth of health monitoring features all available simply by placing two fingers in the two small sensor holes on the rear of the iPhone case – which seems rather amazing.
"Over the last two years, we have focused our efforts on coming up with a technologically advanced yet easy-to-use tool to help people monitor their health and facilitate better lifestyle choices," said founder and CEO at Azoi, Hamish Patel. "We are proud to introduce Wello – a not so small engineering feat in microelectronics, nanosensors, imaging, data analytics and design. By putting health monitoring technology into a highly convenient and accessible mobile phone case, we hope to be able to make a real difference."
Click on above title for more.