The woman was talking on her iPhone, and never saw coming her induction into a large and growing subset of crime victims. But there it happened shortly after noon on April 15, on a busy corner of Main Street in Flushing, Queens. A teenager zipped past, snatching the phone out of her hand and kept running.
Devices like hers were stolen 16,000 times last year in New York City. But what happened on this afternoon was anything but commonplace. The closest comparison that leaps to mind is a classic chase scene from a 1971 thriller.
The teenager, soon out of sight, had every reason to believe his getaway was whistle clean. The woman, with just as many reasons to believe that was the last she would see of her phone, flagged a police officer, who put a call over the radio with a description of the young man wearing a yellow hooded sweatshirt.
Click on above title for more.
A Japanese politician has sparked controversy by saying the use of wartime sex slaves was necessary to provide "comfort" for soldiers risking their lives in battle.
It is believed up to 200,000 women, mainly from the Korean Peninsula and China, were forced to become prostitutes for Japanese soldiers in military brothels.
Toru Hashimoto, mayor of Osaka, said: "To maintain discipline in the military, it must have been necessary at that time.
"For soldiers who risked their lives in circumstances where bullets are flying around like rain and wind, if you want them to get some rest, a comfort women system was necessary. That's clear to anyone."
Mr Hashimoto's comments come amid mounting criticism of suggestions the government might revise past apologies for wartime atrocities.
Click on above title for more.
PYONGYANG (The Borowitz Report)—North Korea's official news agency announced today that the military's planned missile test had been put on hold because of "problems with Windows 8."
Intelligence analysts said that the announcement gave rare insight into the inner workings of North Korea's missile program, which until last year had been running on Windows 95.
The announcement from the Korean Central News Agency (KCNA) did not indicate a new scheduled time for a missile test, saying only that it was "working with Windows 8 support to resolve the issue."
In the words of one intelligence analyst, "That means the test has been delayed indefinitely."
A source close to the North Korean regime reported that Supreme Leader Kim Jong-un is furious about the Windows 8 problems and is considering a number of options, including declaring war on Microsoft.
Click on above title for more.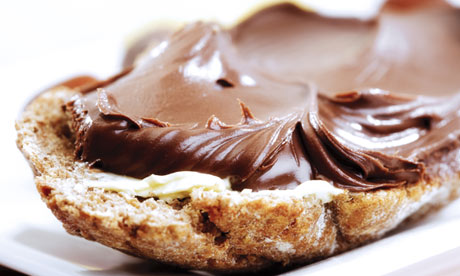 There's something seriously afoot in the small town of Bad Hersfeld, in central Germany. Thieves made off with five tonnes of Nutella over the weekend. According to some fag-packet calculations, that's 6,875 large jars – or 27m calories – of the chocolate and hazelnut spread, thought to be worth about £13,600. Imagine two medium-sized elephants made of Nutella and that's roughly what we are dealing with. Neither the spread nor the brigands have been seen since the robbery from a parked trailer last weekend.
This sticky-fingered heist comes less than a fortnight after a coffee raid worth £25,000 had hit the spa town; a truckload of Red Bull disappeared there last August. Police have yet to confirm they are pursuing the theory that these offences have all been committed by the same insomniac. Some sort of rave-cum-breakfast-bonanza may also be under investigation.
Click on above title for more.
This is the moment when 24-year-old David Elly crashed his mother's Audi TT into a petrol station shop at 70mph, causing £190,000 worth of damage.
Before the accident, the TT was parked in a pub car park in Romiley; Elly then chose to move the car away from the pub because of a forthcoming pub function. He had been drinking and rowing with his girlfriend at the time, although he was found to be under the drink drive limit after the collision.
Click on above title for more.
Red Audi takes off and crashes into house near Lowestoft 
Meteor strike injures hundreds in central Russia
Austria's Turkish community said the model was based on Hagia Sophia mosque in Istanbul and that the accompanying figures depicted Asians and Orientals as people with "deceitful and criminal personalities."
The Turkish Cultural Community of Austria released a statement calling for Lego to apologise for affronting religious and cultural feelings.
The anger was provoked by "Jabba's Palace", a model of the home of Jabba the Hutt from Lego's Star Wars product range based on the blockbusting series of science fiction films.
Jabba is the large slug-like creature who holds Han Solo captive in the film Return of the Jedi, and his palace is the setting for several crucial scenes, including using Princess Leia as his slave.
Jabba's domed home and accompanying watchtower bear, according to the statement, an unwanted resemblance to Istanbul's great Hagia Sophia, and another mosque in Beirut.
Click on above title for more.