Independent security researcher Rafay Baloch has written about a security bug in the Android Browser app that allows one website to steal data from another.
The guys over at Metasploit are calling it a "Privacy Disaster," and promising to take the time to create a video that is "sufficiently shocking" in order to show you why.
So, what went wrong, and what should you do?
Click on above title for more.
On Sunday, the Washington Post published an exposé revealing that private companies are peddling surveillance systems to foreign governments that track the location of cellphone users in the United States and abroad. The report raised a basic question: How can this be happening when cellphone companies generally promise not to disclose their customers' location information without their consent? The main problem is that location information is available on a global network that can be accessed by thousands of companies. And in the wake of the Post story, US cellphone companies are refusing to discuss how this squares with their privacy policies, or say what they are doing to keep their customers' whereabouts confidential.
Click on above title for more.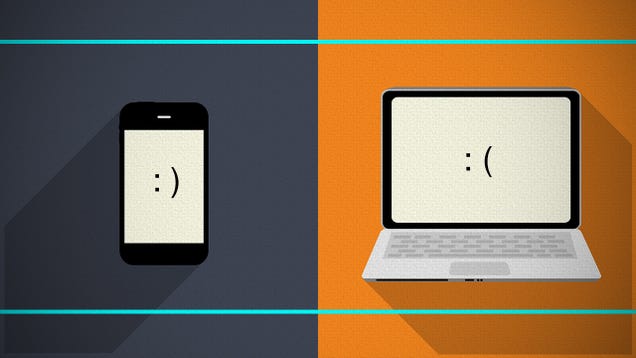 We've known for a while that your smartphone is a better PC than your PC ever was. It can't replace everything your computer does, but there are some things that are actually better to do on your phone, rather than your computer.
It should be noted that much of this is going to be subjective. There huge differences just between iOS, Android, and Windows Phone, much less individual handsets. However, the prevailing notion has always been that phones are great when you're away from the computer, but if you have a PC handy, you should use that. For things like photo editing or watching movies, that might be true. Here are some things that, more often than not, can be done more productively on your phone than your computer.
Click on above title for more.
HTC has teamed up with Singapore art collective Phunk Studio to design a limited-edition version of the One (M8).
The teams worked together to design the smartphone's revised exterior, with the primary theme of "Wonderment" driving the result.
Click on above title for more.
In case you've wondered what a flagship Android phone would look like if it ran Windows Phone, it looks like you'll get your chance to find out. This morning, HTC officially announced that the One M8 is getting a twin brother, complete with Microsoft's OS. Make that identical twin: The Windows Phone M8 has the same smooth aluminum shell, same rounded corners, same 5-inch, 1080p display.
Click on above title for more.
The iPhone 6 has prematurely reared its head once again, with latest leaks showing the handset running iOS 8.
Click on above title for more.
Nokia and London-based researchers have developed a coating that use vibrations, including your voice, to charge your smartphone
A group of Queen Mary University of London researchers have been working with Nokia Corporation (NYSE:NOK) to develop a way to find a way to extend smartphone battery lives by recharging them on the go, turning your voice (and other vibrations) into an electric current. The trick is to coat the phones with zinc oxide nanorods connected to the battery with nanowires.
Click on above title for more,
Samsung's finally launched the much-leaked Galaxy Alpha, a fancier-looking but stripped-down version of the Galaxy S5. As expected, it sports a substantially different, less rounded design than the GS5, with metal sides that gives it a glancing resemblance to an iPhone 5s. The Alpha is also much lighter and thinner than its big brother at a mere 6.7mm and 115 grams. Samsung said it took a "fresh approach" with the new handset's looks, something it vowed to do in the face of a steep downturn in sales. The new design could also give some clues about the look of the Galaxy Note 4, set to launch early next month.
Click on above title for more.
The Samsung Galaxy Alpha has prematurely shown up on a UK retailer's website, and if the listed specs are true, it could very well be the first Galaxy handset to land with a metal build. Sort of.
Leaked pictures of the Galaxy Alpha point to a handset which retains the plastic textured back of existing Galaxy devices, but the device's outer edges are surrounded with a metal band with iPhone-like chamfered edges - a notable improvement over the all-plastic build of the Galaxy S5.
Click on above title for more.
Amazon's debut phone isn't bad, per se, but there's little incentive for anyone to switch carriers or platforms to buy it. Its unique features don't provide enough utility, and come at the expense of both battery life and performance.
Click on above title for more.