We love video streaming - bending television to your every viewing whim is the future. But only the newest, smartest TVs let you do that, and that's where Roku comes in.
Its various streaming devices – boxes with apps, basically – give your TV all the smarts it needs for entertainment on demand, even if your set is older than a Michael McIntyre joke.
The Roku 1 is the entry-level model, while the Roku 2 (£80) adds a headphone socket to the remote and dual-band wireless and the Roku 3 (£100) brings such treats as motion gaming, SD card slot and faster processor. The Roku Streaming Stick (£50), meanwhile, has finally arrived in the UK and does much the same as the Roku 2 but in an even smaller, USB-powered stick form.
Click on above title for more.
After plenty of teasing and heavy marketing, the newcomer OnePlus has now officially unveiled its OnePlus One handset at a special event in Beijing.
Ever since the launch of the company was announced by former Oppo exec Pete Lau, OnePlus has a promised us a device that "never settles", breaking the mold to give us something worth truly being excited about. Whether the OnePlus One actually meets this ambitious goal is probably a matter of personal preference.
So what's under the hood of the much-teased OnePlus One? At the heart of the device you'll find all the hardware you'd expect from a flagship 2014 device including a 2.5GHz Qualcomm Snapdragon 801 CPU, Adreno 330 GPU, 3GB of RAM and either 16 or 64GB internal storage. The OnePlus One also includes a 5.5-inch 1080p display, a 13MP Sony Exmor IMX 214 rear cam, 5MP front cam, 4G LTE, a bevy of sensors, and a 3100 mAh LiPo battery.
Click on above title for more.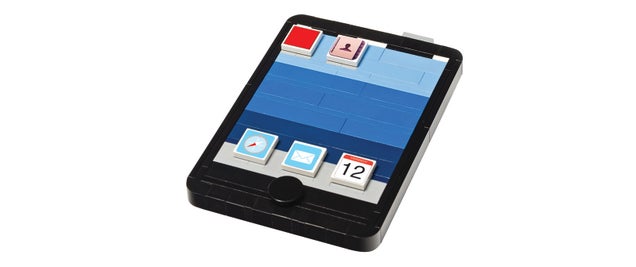 It's estimated that one third of us own a tablet computer, so this LEGO tablet should hopefully look fairly familiar.We've used some custom printed tiles to represent the apps installed on our tablet, but you could use any decorated tiles you have in your collection.
Click on above title for more.
We know that Apple released iOS 7.1.1 earlier this week to fix a wide range of bugs and it turns out those bugs might be much more serious than we realized. Ars Technica reports that Kristin Paget, a former Apple whitehat hacker who now works for Tesla, has been ripping into her former employer for allegedly leaving its users wide open to some potentially serious hacks in the weeks between the releases of iOS 7.1 and iOS 7.1.1.
Click on above title for more.
FLYING drones fitted with heat-seeking cameras are being used by criminals to find cannabis farms in Halesowen, Cradley Heath and Oldbury so they can steal the crops.
FLYING drones fitted with heat-seeking cameras are being used by criminals to find cannabis farms in Halesowen, Cradley Heath andOldbury so they can steal the crops.
The explosion in the number of cannabis farms has led to countless violent robberies as the intruders know the victim will not call the police.
However, the use of drones in discovering cannabis farms in residential homes is the first instance of cheaper drones being used in this way.
One tech-savvy criminal said: "I bought my first drone for a few hundred quid and learnt how to fly it over wasteland and fitted a wifi camera to it so I could look into people's windows.
Click on above title for more.
The Galaxy S5 is without doubt one of the best phones of the year. A fantastic screen and versatile camera make it an early contender for best mobile of 2014. However, it does have a few problems. 
One of the most important is that the TouchWiz interface of the Galaxy S5 is not all that pretty in parts. It is better than it was last year, but we'd rather have vanilla Android. 
You normally need to root (hack) an Android phone to get rid of the custom interface a manufacturer has put on it. But you can get the Google Experience interface of the Nexus 5 on your new S5 without any of that faffing. Here's how to do it. 
Click on above title for more.
Google Chromecast is a USB dongle that plugs into a TV's HDMI port to give it 'smart' capabilities. Aimed squarely at Apple TV and the plethora of boxes from everyone from Roku to Sky, it allows you to play back Netflix, Youtube video and BBC iPlayer using a phone, tablet or laptop as a remote - and you can even 'cast' web pages onto the big screen.
Click on above title for more.
Unlike in previous years, Samsung announced the Galaxy S5 at MWC 2014 rather than hosting its own event later in spring. And unlike in previous years, the company only highlighted certain new features of the handset during the event – probably the fresh partnership with Google played a role in that – instead of showing all the new software tricks it has devised for the new flagship.
However, in a post on its blog, the company highlighted 10 hidden features Galaxy S5 buyers should be aware of.
While it doesn't come with a stylus, the Galaxy S5 supports pencil input, allowing users to write on it with a pencil. To enable the feature, users will have to go to Display settings and increase the touch sensitivity of the display – alternatively they can pull down the status bar and select "Touch sensitivity" from there.
The Galaxy S5 will also suggest music playlists with a simple tilt. Users will have to tilt the Galaxy S5 horizontally into landscape mode while listening to a song, at which point the Galaxy S5 will suggest additional tracks based on that song.
With "Toolbox," Galaxy S5 users will be able to bookmark favorite apps. 
Click on above title for more.
A new report suggests that Google is currently working on a low-range Nexus phone that would carry a budget price tag.
According to Chinese website MTKSJ.com, Google's next Nexus handset could cost as low as $100 (about £59). 
Google is reportedly working with Taiwanese chip manufacturer MediaTek on a new Nexus device that will be aimed at the budget end of the smartphone market.
Click on above title for more.
When it comes to gaming on your phone, it's either swiping bliss or on-screen button rage, but luckily, there's a fix on the way to make the latter pains go away. It's called the G-Pad, a simple silicone sleeve that slides around your iPhone, and brings a d-pad and physical buttons to turn your iPhone into the ultimate Game Boy handheld. Fancy one of these?
Designer Aws Jan is attempting to turn retro gaming on your iPhone the best it can possibly be with his new project, the G-Pad. He's looking to raise $16,000 (£9,570) over on crowdfunding site Indiegogo to turn his physical gaming dreams into a reality, and the simple silicone sleeve just slides onto your iPhone 5, 5s, 5c or iPod touch to work with a iOS GameBoy emulator called GBA4iOS that doesn't require you to jailbreak or hack your iPhone to game on the go.
Click on above title for more.