The Nokia Lumia 630 is a low-end phone. As it is set to sell for around £100, you could call it Nokia's Windows Phone 8.1 alternative to the Motorola Moto G, currently one of the most popular lower-cost phones. 
The screen disappoints next to the best Android phones at the price, but otherwise this is a likeable phone for those on a budget.
Click on above title for more.
Back in the early days of Windows Phone 8, the fly-in Live Tiles that are the signature of the OS drew praise and criticism in equal measure - praise for their novelty and potential, and criticism for their inflexibility and occasionally sluggish performance.
In one update, WP8.1 remedies both flaws. The animations are now lightning fast and ultra-smooth, and you can customise the Live Tile interface to your heart's content.
Click on above title for more.
I didn't think too much of the earlier Cortana leaks, but after seeing it perform in person and diving into all that it can do I think this smart personal assistant may even bring people to Windows Phone from iOS and Android.
Click on above title for more.
The Lumia 930 is seriously bright and comes with Windows Phone 8.1
The Nokia Lumia 930 is the successor to the Lumia 925. It's a high-end 5-inch screen Windows Phone, with a focus on camera technology. However, it's not quite as camera-obsessed as the Lumia 1020, making it a slightly more accessible phone. 
We took a closer look the phone at its launch to find out if it deserves to head-up Nokia's 2014 phone line-up
Click on above title for more.
The Nokia Lumia 1320 is a very large Windows phone. It has a 6-inch screen, and is quite an imposing presence. The more affordable sibling of the Lumia 1520, it cuts out some of that phone's higher-end features to sell for around £270 SIM-free, or around £21 a month on a contract. 
However, its sheer girth makes it a little hard to live with, and the extra screen inches aren't beneficial enough yet.
Click on above title for more.
Microsoft could allow Windows Phone to support Android apps in the future, according to a new report. 
New information suggests that Microsoft is at least considering the possibility of supporting Android apps on Windows Phone and Windows one day. 
Speaking to The Verge, "sources familiar with Microsoft's plans" say Microsoft is talking over the idea of accepting Android apps into the Windows and Windows Phone ecosystems. 
The sources say that the discussions are still in the early stages and planning "is ongoing", but Microsoft is talking about the possibility. 
Apparently, Microsoft is discussing whether to simply allow Android apps to appear within the Windows and Windows Phone stores, but some execs suggest it could destroy the platform entirely, especially on mobile. 
Click on above title for more.
Images of the purported Nokia Lumia 1520V mini have appeared online with a suggested April release date.
Earlier this month, information about a mini version of the Nokia Lumia 1520 emerged online, which has now been backed by some leaked images. 
The images appeared on some Chinese websites, showing the 1520V next to an iPhone 4S and the full-sized Lumia 1520. 
Click on above title for more.
Specs for the Nokia Lumia 1820 and Nokia Lumia 1525 have leaked online ahead of an official MWC unveiling. 
Nokia could be making quite an impact at this year's MWC if the latest leaked specs for its upcoming handsets turn out to be accurate. 
Acccording to a brand new source named @NextLeaks, Nokia will launch the flagship Lumia 1820 and the Lumia 1525 phablet will be launched at the show. 
Of course, this new tipster doesn't have the proven track record of someone like @evleaks, but we really hope these specs are the real deal. 
The Lumia 1820 will reportedly feature a 5.2-inch 2K 2048 x 1080p resolution display running on a quad-core Snapdragon 805 processor with 3GB of RAM. 
Click on above title for more.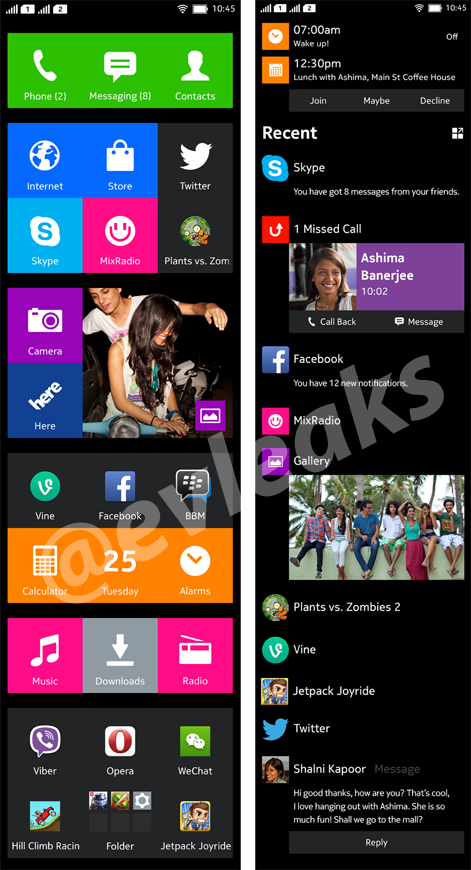 More details leaked online about Nokia's Normandy handset, a reported Android phone the company is working on. A pair of home screen images appeared on Thursday, courtesy of the well-connected @evleaks. You'd be hard pressed to see anything remotely looking like Android though. The user interface is far more reminiscent of Windows Phone.
Click on above title for more.
Nokia is set to make quite a splash at Mobile World Congress in Barcelona next month, if the latest whispers turn out to be true.
According to @NextLeaks, Nokia will reveal its Lumia 1820 flagship at the show, and it's got quite the spec list. To put it mildly.
A 5.2in 2K display, a quad-core Snapdragon 805 processor and 3GB of RAM are all said to be included in the 1820, along with a 3,400mAh battery, 32GB of expandable storage and a camera with a Xenon flash and Lytro-like technology which allows for post-capture re-focusing.
Click on above title for more.